We have been a family breed since 1989 and living with Leos and breeding Leos is a real passion for us. We only have few litters, but we give birth to good and beautiful puppies that meet the requirements of the breed standard, without genetic defects and without hereditary diseases.
Acquiring a LEONBERG
Acquiring a LEONBERG is relatively easy, you just have to find a good breeder with good pedigrees and book a puppy on an unborn litter, because rarely the good breeders have puppies available.
With every litter we have a lot of inquiries and never enough puppies to satisfy everyone. Hence the interest of a reservation that gives you a choice based on the order of reservation. In addition, this way we can get to know you better so that we can help you choose a puppy that suits you and your environment. You must have some knowledge of the LEONBERG and its specific needs. We are here to help and guide you.
Our Leonbergers are happy because they are raised in a beautiful place, in herd, on an area of ​​12 hectares and we can devote ourselves entirely to our animals, horses and dogs. They play together and are very, very loving that live.
Friendliness towards children, family members and other animals is one of our many breeding criteria.
Often the coverings are carried out through artificial insemination in fresh semen. An ultrasound after 25 days and confirms whether the female is pregnant. An x-ray after 50 days confirms how many puppys to be born. Pregnancy lasts about 60 days. After birth, the puppies will join their new owners at 9 weeks of age once they are weaned and fully socialized.
A Leonberg female does not make her babies unattended.
We are close to them 24 hours a day and night for 3 weeks as the puppies are born small compared to their mother's impressive size. The puppies and the female are supplemented by us every day with a monitoring of their growth! (Weight gain).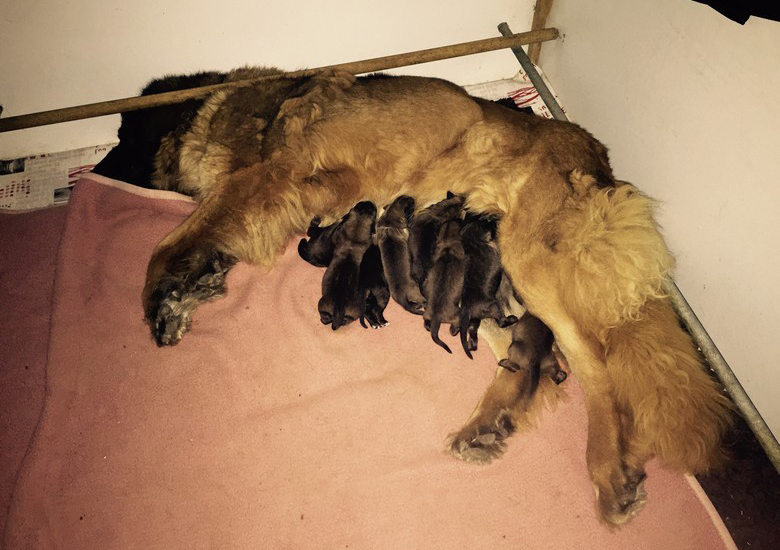 The Leonberger dog
The Leonberg has an impressive growth. Adult, a female weighs between 55 and 75 kg, a male on average between 60 and 80 kg, sometimes more. We prefer strong bones and German blood lines, which are the origin of the LEONBERGER.
The LEONBEGER is not fragile and can live up to 13 years, but the average lifespan is 9-10 years.
You have to give them good food containing high concentrations of protein, ideally dog croquettes and preferably grain-free and suitable for human consumption are perfect. We get them used to it before they leave us.
We are still at your disposal for information and would be happy to show you our dogs . You are welcome everytime.
Contact us by phone at 0631811448 or by our contact form.